Since I don't do client design jobs anymore, one of my favorite endeavors is the design work I am asked to do for my church's local congregations. I don't get paid for the work in *moolah*, but I get paid in more beautiful ways like I did with this design job.
I was given complete creative control over coming up with a poster and flyer concept for a luau fundraiser for the young men of our congregation. It's really fun when I get that much creative freedom. It gave me the chance to try out a new medium for drawing some Tiki graphics. I hadn't anticipated that my new set of Tombow brush pens would be so fun to work with. Boy, was I blown away with what I could get out of those things! I was pleasantly surprised at the wood grain effect I got out of them.
Now I'm finding myself looking for an excuse to use them again. *hee hee*
After scanning in the drawing of the Tiki guys and the monstera leaves, I combined them with vector graphics I drew in Illustrator for the background and the word "LUAU". To round out the whole thing, I found a fun font called "Tiki Tropic" at dafont.com that fit with the playfulness of the design.
And here's the finished design…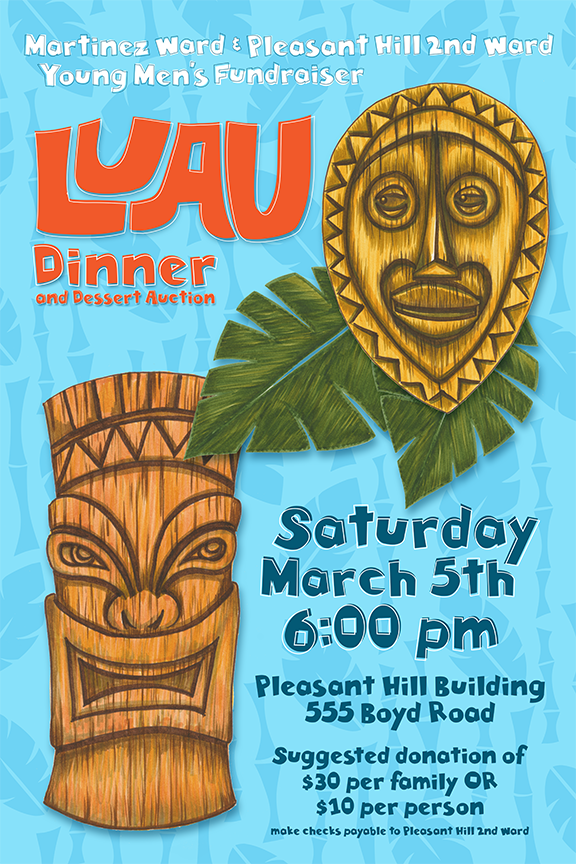 Materials used (this list contains affiliate links through Amazon Associates):